10TH AMERICAN FILM FESTIVAL "INDEPENDENCE"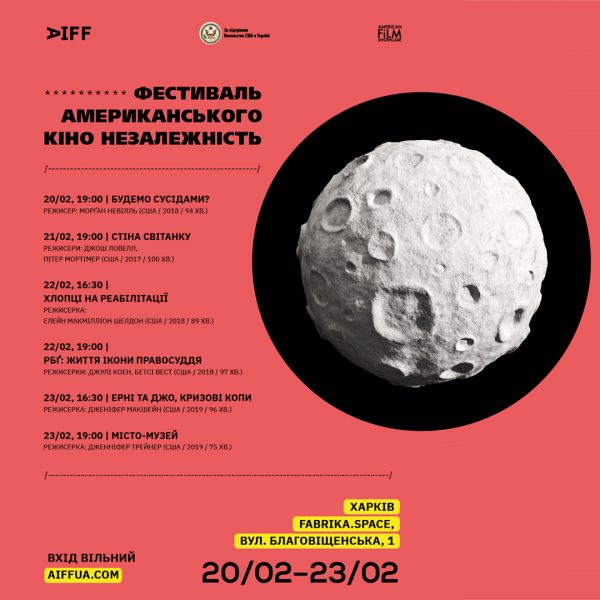 22th of February, 2 sessions and 2 films: from 16-30 to 18:30 and 19:00 to 21:00
(FREE ADMISSION)
Films are shown in the original language with Ukrainian subtitles
-1- REHABILITATION GUYS – 16:30 to 18:30
USA / 2018 / 89′
Director: Elaine Macmillion Sheldon
The Rehabilitation Guys tells the story of four patients at the Jacob's Ladder Rehabilitation Center — Jeff, Rush, Adam, and Ryan — and their lives right after the program ends. The documentary shows the raw reality of the drug addiction epidemic from a personal point of view, paying direct attention to the struggle of the patients themselves and their families. Also worthy of special mention are the excellent filming and editing, which the audience will undoubtedly remember this film of Oscar-nominated filmmakers Elaine Macmillion Sheldon and Kerrin James Sheldon.
"Sincere, sharp and frank – this tape proves that Sheldon is one of the most important documentaries of the present, especially in the difficult topic of drug addiction. The social impact of such a film should not be minimized. Rehabilitation Guys is a film that has the power to overcome a potential conviction that could ruin someone's chance of a life without drugs." The Gate
"The film reveals frank moments that unobtrusively expose our lack of effective assistance… This is a touching and at the same time warning story, as well as a painful reminder that rehabilitation is a road that actually never ends." The New York Times
"The action takes place literally in the midst of a crisis – the film shows men's emotions, and this will surprise those who are used to a restrained image in popular culture. In the end, the film is about rehabilitation, not drug addiction. " The Guardian
-2- RBG: LIFE OF THE ICON OF JUSTICE – 19:00 to 21:00
USA / 2018 / 97′
Directors: Julie Cohen, Betsy West
2 nominations for the Academy Award
12 awards and 49 other nominations
At 85, U.S. Supreme Court Justice Ruth Bader Ginsburg has not only an impressive history of legal affairs – she has also suddenly turned into a true icon of popular culture. However, its unique path to America's highest courtroom has so far remained largely unknown to the general public — even its loyal supporters. This film was created specifically to tell about the incredible life and career of madam Ginsburg.
Details: 066 969 15 25