4 Faces of Mona Lisa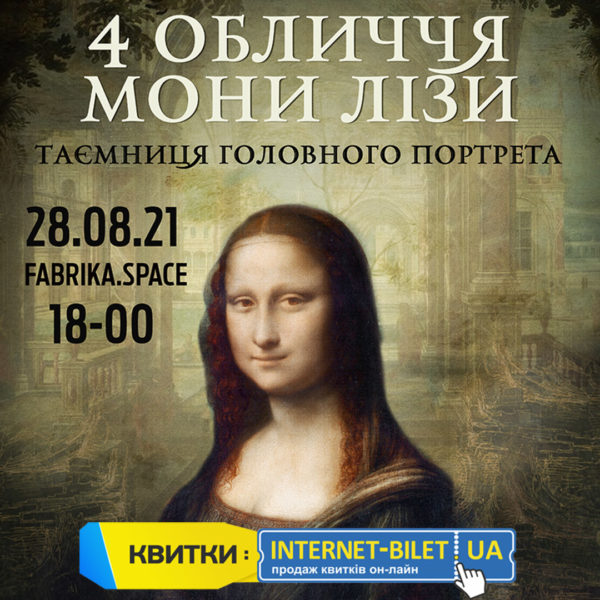 When: 08/28/21
Start: 18-00
Ticket price: UAH 100.00.
Tickets: https://kharkov.internet-bilet.ua/ru/art-film-4-litsa-moni-lizi
Film language: dubbed in Ukrainian.
address: Kharkov, st. Blagoveshchenskaya 1, 2nd floor, blue hall.
Important: Boarding in the hall is free.
Director: Luca Trovellesi Cesana
Writer: Claudio Centio
Duration: 90 min.
Age: 16+
Trailer: https://www.youtube.com/watch?v=s08ygDuEelk
What's the secret behind the most famous portrait in history? The art film "4 Faces of Mona Lisa" is released in Ukrainian cinemas. A unique study of the identity of a portrait – for the first time in the history of cinematography.
Despite the impressive amount of research devoted to da Vinci, his personality and work are still shrouded in many mysteries. One of them – who actually became the prototype of his most famous painting, "La Gioconda"?
The new documentary art film "4 faces of Monna Lisa" (Monna Lisa identity), created for the 500th anniversary of the genius, lifts the veil of this mystery.
Four women, four amazing stories – which one inspired Leonardo? Viewers will experience an inspiring artistic journey through the Italian Renaissance and the four cities where the prototypes of the La Gioconda lived: Florence, Milan, Urbino and, finally, the Basilicata region, where the unknown tomb of Mona Lisa herself is located.
The film is based on the latest scientific research: together with historians, viewers will analyze the first published materials and data from the latest excavations to find out whose features we see in a woman who has fascinated millions of people for centuries. The mystery has never been so close to solving.