ART MANAGEMENT | THE BASICS OF THE ART MARKET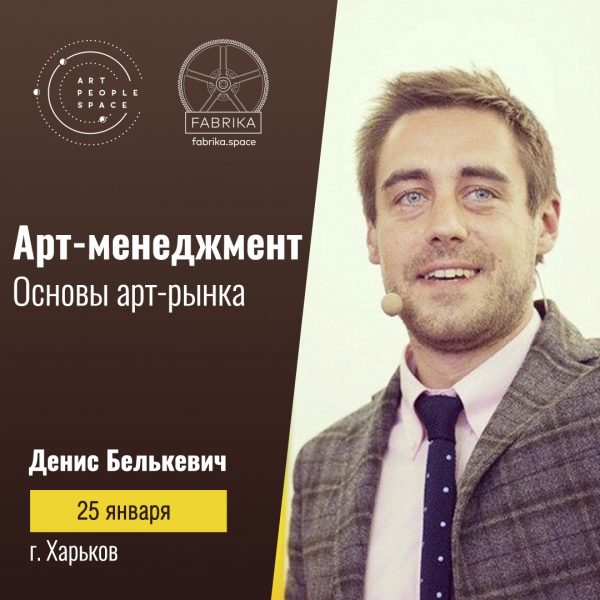 25th of January we invite you to meeting with a professional cultural project manager and investment consultant – Denis Belkevich.
The topic of the meeting is "Art Management. The basics of the art market for the artist"
– What is the art market and art business?
– Basics of marketing for artists;
– An artist as a brand – formation and development;
– Artist and gallery;
– What made art fairs the best-selling venues?
– Why did the successful American art dealer and gallery owner Larry Gagosyan create a technology department at the gallery?
– Why is Instagram today the artist's best friend?
SPEAKER: Denis Belkevich is an economist in the field of art, a professional manager of cultural projects, a consultant on investment and management of objects of art, and management of private collections.
He served as managing director of the GAAB Contemporary Asian Art Fair (Warsaw) and project manager of the Peter Konchalovsky Foundation (Moscow). In 2013, he founded the Ukrainian Cultural Group, a company managing private and state cultural property and providing consulting services in the cultural sector.
Denis is a regular participant in international conferences and forums on marketing and art economics (Communicating the Museum, Deloitte Art Finance, Christie's Art + Tech, etc.). Member of the Board of Founders of the International Association of Asian Art Collectors.
Author of educational programs and publications on museum marketing, art banking, career management of artists and asset management. Permanent author of publications in Ukrainian and international publications: Art Ukraine, Forbes, RBC, Art, The Art Newspaper Russia, Art World Forum, collections of scientific studies. Founder of the Artfinex art finance blog.
In 2017, Denis Belkevich co-founded the startup Artherium – a collection management system on the blockchain.
Since 2019, he is co-founder of Fuelarts, a business accelerator for young art and technology companies in New York.
TICKETS
lecture cost – 400 UAH
cost for 2 people and more – 350 UAH
on the day of the event – 500 UAH
Pre-registration and payment is required!
Detailed information: (067) 130-46-63 or Info@artpeople.space