BEST EROTIC SHORTS | 2020 | 2 SESSIONS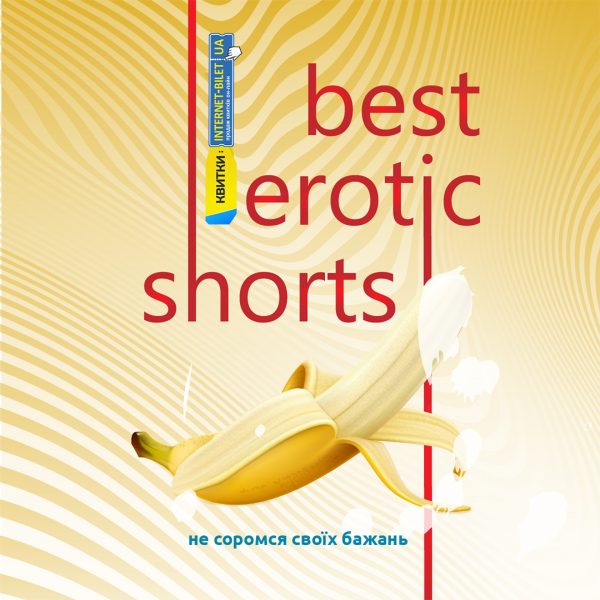 14th of February at Fabrika.space "BEST EROTIC SHORTS" 2020
IN THE HALL A FREE LANDING!!!
2 sessions: 18-50 till 20-20 and 20-30 till 22-00
Ticket price: 100 UAH
Countries: France, Belgium, Spain, Israel
Duration: 80 minutes
Age restriction: 18+
Language: voiced in Ukrainian
14 of February the Best Erotic Shorts festival will return to Fabrika.space with a new program!
Sexy shorts from around the world will prove that it can be Hot in winter!
"Best Erotic Shorts" is eighty minutes of sheer pleasure that you will want to continue when you return home. We will set you up for bright evenings and hot nights.
Take an umbrella with you, because the humidity in the room promises to be high. Before the session, modesty can be left at the checkout or at the administrator. Pick up is NOT necessary.
#1 SATIN
France, 2019, musical film, science fiction, erotic, dir. Philippe Grenier, 15 min. 15 sec
The handsome electrician who was hired to repair the lamp in the living room seduces Nicole. A virtual tropical nightclub allows her to penetrate her sweet fantasies. Her 15-year-old son finds a miracle device, and plans are changing…  
#2 ECSTASY
France, 2018, animation, erotic, 2 min.
Valentine's Day is approaching. This means that someone will have…
#3 KIND OF SHOWERS
France, Belgium, 2018, comedy, erotic, dir. Pierre Deladonsham, 15 min.
Tristan and Louise love each other, but conflicts seriously shake their feelings, their relationship becomes poisonous. During Tristan's birthday in his parents' house, Louise decides to take revenge. Adele and Antonin become witnesses and direct participants in this drama.
#4 SHOWER FOR SALE
Israel, 2018, animation, drama, erotic, dir. Anna Belenky, Romy Grano, Shira Salimi, 11 min.
Julie's life changes forever when she decides to go into the tunnel, which takes her into the world of the sex industry.
#5 MIA
Spain, 2017, documentary, drama, erotic, dir. Oriol Kolomar, 11 min.
Autobiographical erotic documentary. Miya embodies her most intimate fantasies, without shame, in her first attempt to enter a completely new world of domination and submission.
Through this experience, a couple of lovers reflect on their conflicts and their past, analyzing how they built their sexuality. BDSM outside the pornographic field without a taboo. An honest and emotional look at a topic that has been stigmatized and has never been interpreted as something that exceeds a simple sexual game.
#6 LIPS
Belgium 2018, animation, erotic, dir. Emily Praniof, 8.5 min
A simple touch evokes poetic images of desire, blooming as an ode to femininity, passion and sensuality.
#7 NIGHT WITH JUAN DIEGO BOTTO
Spain, 2018, comedy, erotic, dir. Theresa Bellon, Cesar F. Calvillo, 10 min. 45 sec
Cristina has been in love with Juan Diego Botto since she saw the film "Stories from Cronus" with his participation. She had to wait twenty years, but it seems that her dream will come true tonight.
However, the utopian aspirations of Juan Diego Botto consist not only of a night of love. Nothing personal, it's just hard for him to concentrate on such small things when there is so much suffering in the world.
#8 BIRD WITH TOMATOES
France, 2019, comedy, erotic, dir. Coma Levin, 15 min.
20-year-old Max, a Scout leader, suffers from Tourette's syndrome. The terrible symptoms completely disappear when Max is removed. Even a hidden camera is enough, and he becomes a normal person. Thanks to this trick, he manages to seduce Julie.