BEST HORROR SHORTS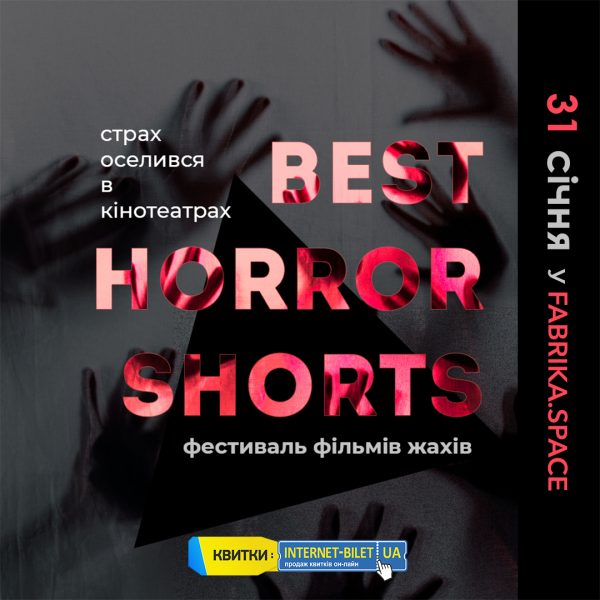 31th of January at the Fabrika.space horror film festival "BEST HORROR SHORTS"
IN THE HALL A FREE LANDING!!!
Session: 19-00
Ticket price: 80 UAH
Countries: Poland, Spain, France, United Kingdom, Brazil, Italy
Age category: 16+
Duration: 108 minutes
Language: voiced in Ukrainian
31th of January will be filled with fear, because in Fabrika.space the horror festival "Best Horror Shorts" will take place!
Jason, Pennywise and Samara have already watched the films included in the program and are now afraid to leave their rooms/forests/ TVs. And Freddy Krueger after watching completely lost his sleep.
We know for sure that you have strong nerves, therefore, as always, we are waiting for you in the dark cinema. Together we will watch terrible non-childish fairy tales without a happy end. All the classics of the genre: monsters, cannibals, psychos.
You won't be bored. Ready? Then drove into the land of horrors. But be careful – it's very easy to get lost in it.
1. Demon
Poland, 2017, dir. Blazhey Kuyava, hron. 14 minutes 15 sec
Anyone who has lost his way in the gloomy forest at night should not expect anything good. The best thought is to wait until dawn and try to find a way. However, there are demons that do not disappear even during the day, and forests from which there is no way out.  
2. Alter Ego
Italy, 2018, dir. Andrea Gentile, 5 min. 11 sec
What do you see when you look in the mirror? Do you always recognize the one who is looking back?
3. Feather pillow
Brazil, 2018, dir. Joseph Specker Nose, hron. 12 minutes 17 sec
An unknown disease took hold of Alicia's body immediately after her honeymoon. The wall between reality and hallucinations is gradually disappearing. What really drives a woman crazy, and how is her husband involved?  
4. Dark room
France, 2018, Morgan Segert, hron. 20 minutes.
France, 1910. Cassandra's mother suffers from a mysterious disease that she is trying to hide from everyone. But the girl feels the presence of the monster that she wants to take her mother.
5. And the child cried
United Kingdom, 2018, dir. Dan Gitsham, hron. 3 min. 29 sec
The father is struggling to put the baby to sleep. But what bothers the baby's sleep in a dark room?  
6. Drops
Spain, 2018, dir. Sergio Morchillo, hron. 14 minutes 35 sec
Martha's parents died two years ago. One night, being at home alone with herself, she finally learns the terrible truth about the pain that torments her.
7. Beast
France, 2018, dir. Filippo Meneghetti, hron. 18 minutes 3 sec
Actions take place in a remote village many years ago. A little boy falls into a hole in the forest. His grandfather, an old and almost blind shepherd, is trying to convince the villagers to go to salvation by looking into the eyes of their fears in the night darkness…  
8. Whistle
United Kingdom, 2015, dir. Simon Barry, hron. 3 min. 35 sec
The housemates finally parted, and Abigail could devote a day to cleaning and doing laundry. Unfortunately for her, the laundry room is in the basement, from which a strange whistle sounds.
9. Out of the city
France, 2018, dir. Pierre Moucher, hron. 17 minutes 31 sec
A gloomy man wanders through the countryside next to an old and dilapidated house. A weak sick girl is closed in one of the rooms of this house. Who and why is holding her back?    
For all questions: 050-214-06-79