BEST THRILLER SHORTS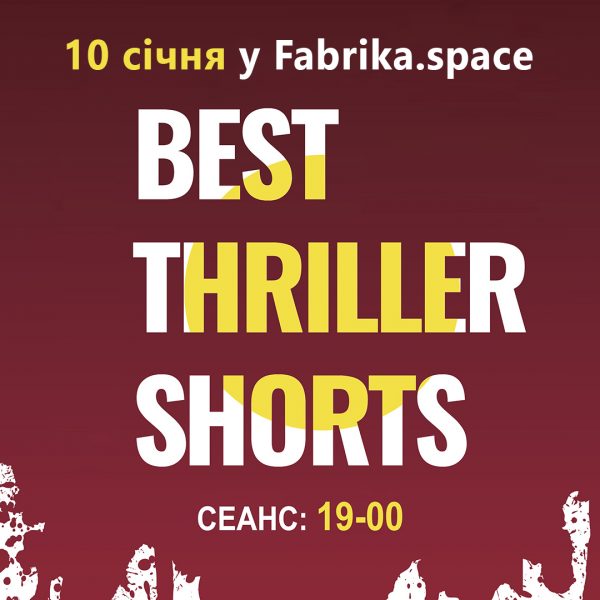 10th of January at the Fabrika.space «BEST THRILLER SHORTS»
IN THE HALL FREE LANDING!!!
Session: 19-00
Ticket price: 80 UAH
Countries: USA, Canada, France, Italy, Argentina
Age category: 16+
Timing: 95 minutes 20 seconds
Language: voiced in Ukrainian
On 10th of January at Fabrika.space kicks off the screening of the Best Thriller Shorts thriller festival.
A sinister shadow ran across the wall. Or is it just the viewer who was late for the session? Frost on the skin. What is it? Flashed a knife, someone did not turn off the smartphone before showing? Why does a man in a hat on an adjacent chair look so suspicious? Thrillers always leave room for imagination.
Are you ready for the fact that during the session you will nervously squeeze the armrests, and the heart pops out of the chest? If scared, then it is better to stay at home. And the most daring fans of the genre are waiting in Fabrika.space. And don't forget to wear an ominous hat.
1. Amateur
USA, 2016, dir. George Vatistas, hron. 8 minutes 37 c.
A young man comes to a mysterious alchemist with a request to sell him poison that is impossible to detect. He still does not know that he will receive much more than he asks.
2. Polymorphy
Canada, 2018, dir. Bernardo Villarreal, hron. 19 minutes 16 sec
Klaus suffers from dissociative personality disorder. He is obsessed with his wife Eileen, who abandoned him. A man is trying to fight obsessive thoughts, but the voices in his head have other plans…
3. Listeners
Argentina, 2018, dir. Fabrizio Centorbi, hron. 14 minutes 17 sec
During a live broadcast, listeners witness domestic violence. The screams are getting louder, and suddenly the connection breaks.
4. The act of mercy
Italy, 2019, dir. Michelangelo Di Pierrot, hron. 11 minutes
Today, the homeless tramp was lucky – he met a wealthy man who, in honor of his birthday, decided to carry out a generous act of mercy. But is something done in this world without its own benefit?
5. Thief in law
Canada, 2017, dir. Casey Lum, hron. 17 minutes 15 sec
A series of events leads to the collapse of an underground Romanian gang. Amid chaos, spontaneous partnerships form.
6. Hypnosis
France, 2019, dir. David Trujillo, hron. 10 min. 28 sec
A woman turns to a hypnotist to recover lost memories. She falls into the subconscious and comes in contact with her late sister. But suddenly a terrible secret is revealed.
7. 647 km
Italy, 2018, dir. Danilo Greco, hron. 14 minutes 27 sec
Santo is a former prisoner, who has ended the past, and trying to live an honest life. The unexpected visit of an old friend named Caesar, who asks for help, destroyed all plans. Indeed, during one of the shipments, Caesar discovered that he was transporting something quite different from what he had agreed with the customer. In his luggage, he found girls who were going to sell on the black market.
For all questions: 050-214-06-79