Birthday party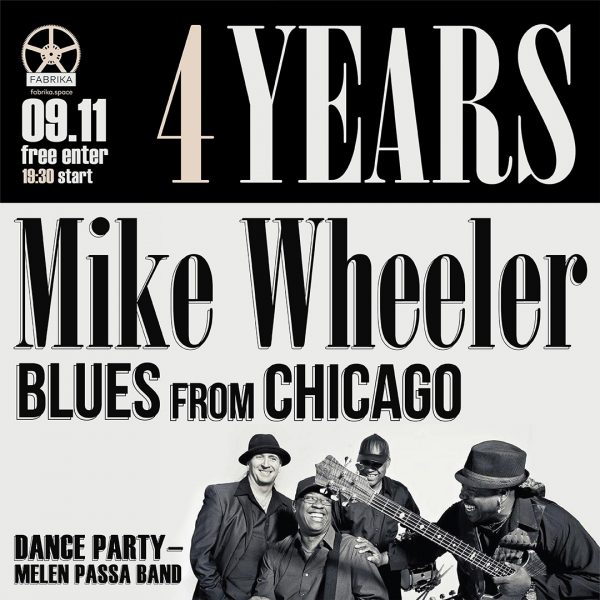 On November 9 we will celebrate 4 years of our friendship!
If you already have plans for this evening, we recommend that you cancel, otherwise, you risk missing one of the most important events in the life of Fabrika.space in recent times.
Birthday is a special holiday!
The official ambassador of the Chicago Blues (Chicago Blues Ambassador), the star of the label Delmark Records and Master Blues Artist, a living legend of American music – Mike Wheeler, who will perform for the first time in Kharkov, arrives to congratulate us!
Mike Lewis Wheeler is one of the iconic guitarists of contemporary American blues. He has 7 studio albums, tours, recordings and performances with Buddy Guy, Koko Taylor, George Benson and others.
His musical style was formed, in many respects, under the influence of Muddy Waters'a, on the music of which he grew up and with whose musicians he performed. The modern sound of Mike Wheeler combines elements of blues, jazz and funk, powerful vocals, virtuosic guitar skills and an inimitable narrator skill.
The cover face of Blues Blast Magazine, the virtuoso and jolly mike Mike, in his own words, "plays everything so that you forget how it sounded before him."
Well, after a grand blues concert we dance together to the accompaniment of the finalists of the X-Factor – Melen Passa band!
See you!
Reservation is required by phone number: 0681001155!
● Date: 09.11
● Guests meeting: 19:30
● you can find out all the details from our administrators