DANCING CAMERA | 4TH FILM FESTIVAL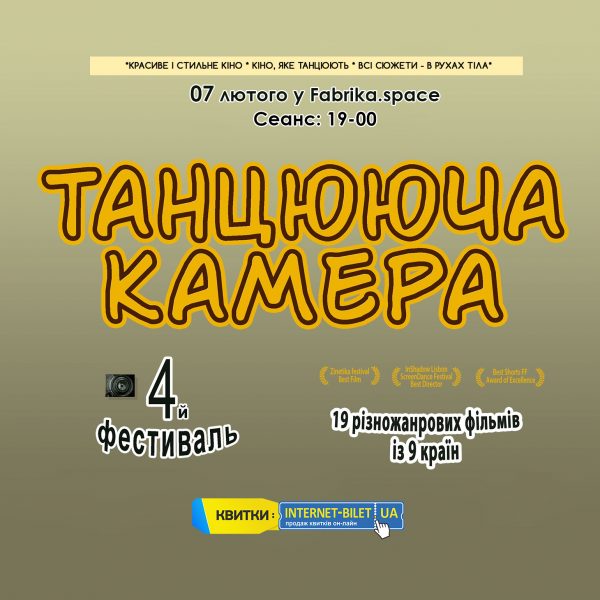 7th of February at the Fabrika.space 4th film festival "Dancing CAMERA"
IN THE HALL FREE LANDING!!!
Session: 19-00
Ticket price: 80 UAH
Countries: USA, UK, Poland, Netherlands, Canada, Portugal, Germany, France, South Africa.
Age category: 16+
Duration: 84 min.
Language: voiced in Ukrainian
Beautiful and stylish movie! A movie that dances! All stories are in body movements! 19 multi-genre films from 9 countries! Comedy, drama, romance, adventure, fantasy, sketching, action!
Various styles of dance, magical music, magnificent plastic of actors, unexpected dramaturgy, heightened feelings, perception and emotions. A collection of films on the theme of dance.
1. EDIT
Fantasy, Great Britain, 04.14 min.
Directors: Del Mac, Patrick Michael Ryder
Cast: Renac MacDonald
Have you tried to change something in your life? When the present becomes a routine, take a decisive step, make your dreams come true!  
2. ONLINE
Drama, Poland, 04.16 min.
Director: Marcin Piotrovsky
In an era when social media is fighting for us, we must make wise choices…
3. INSTANTLY
Fantasy, melodrama, Netherlands, 02.49 min.
Director: Willemaine Lawes
Cast: Caspar Knopps, Willemaine Laws
Each part of life consists of wonderful moments that, when combined into one whole, create a kind of universe, poetry outside of time!
4. FEAR
Action, USA, 02.22 min.
Director: Isayan Shinn
Cast: Bdash and Konkrete
Never let your fears translate into real images. Especially in the images of your friends and like-minded people. Usually this ends with a battle for life, in which it is almost impossible to win.
5. RELEASE
Fantasy, drama, USA, 03.50 min.
Director: Jean Claude Billmeyer
Cast: Evan Copeland
Anxiety, stress, anger… The tension inside a person lives his life, gradually takes root, turns into a destructive force… Release from tension leads to ecstasy and gratitude… Finally we can breathe…
6. DREAM
Drama, United States, 09.04 min.
Director: Adam Stone
Cast: Veronica Francis, Heath Hill, Will Geisner
A successful business woman has long left her childhood dream of becoming a professional dancer. But the dance does not let the woman go… Once it seems to her that she is dying…
7. GRAVITY
Comedy, animation, Canada, 02.07 min.
Director: Eileen Liu
Having decided to arrange everything in life on her own, a woman, however, in difficult situations cannot do without male power.
8. LEVEL OF KNOWLEDGE
Fantasy, Portugal, 08.15 min.
Director: Hugo France
Cast: Carolina Rocha
Games of forms and perspectives. The bridge between heaven and earth. Communication and demarcation. Consistency and gap. Parallel worlds filled with utopia, spontaneity and freedom.
2 awards:
– Zinetika festival 2016 – Best Film,
– InShadow Lisbon ScreenDance Festival 2016 – Best Director
9. DANCE OF FEET
Comedy, Fantasy, USA, 01.37 min.
Director: Emily Schoen
Cast: Casey Boblitt, Gina De Poole, Britney Tokumoto and Jessica Weiss
Each of us has our own tastes, priorities, preferences. But if you set a goal to do something together, it turns out not so bad…
10. SAY ANYTHING
Drama, USA, 03.56 min.
Director: Amy Lynn Straub
Cast: Nancy Anaya, Ronnie Frias
When there are no words, feelings come to the rescue…
11. URBAN SCHOOL
Sketches, Germany, 01.02
Director: Christoph Neuhaus
Cast: Marie Zeciel
Man adapts himself to life in a modern city with its very diverse architecture.
12. ONE BEAUTIFUL DAY
Melodrama, adventure, UK, 7.04 min.
Director: Sima Gonsai
The world of adventure is accessible and interesting for everyone if, despite life circumstances, you are positive.
13. DROPS OF WATER
Comedy, animation, France, 06.19 min.
Director: Hugo Zierzniyak
A pompous middle-class man who loves to have a smart home system meet all his requirements, through a drop of water finds out that the things that you own eventually begin to own you…
Rewards: 1 victory
Best Shorts FF – Award of Excellence
14. THE FAIR LIE
Comedy, USA, 04.11 min.
Director: Ryan Parma
Cast: Nick Demura, Mandy Giro, Brit Stewart
When you are alone, and there are many girls, the extreme lightness of being ever ends.
15. ZAPATEADO
Drama, Great Britain, 05.06 min.
Director: Sam Wilkins
Passion, cruelty, helplessness and injustice… Life flies through the rhythm and colors of the dance.
16. HOLY DESIRE
Romance, United Kingdom 04.02 min.
Director: James Dyer
Cast: Amber Doyle Conan Belletti
There are two strong personalities… A journey into the world of beautiful passionate love.
17. FIRST DANCE
Melodrama, USA, 02.46 min.
Cast: McKell, Michaela, Jared Richardson
Director: Blake Calhoun
Two teenagers are going on an unusual first date. How will this happen when you are constantly monitored?
18. AFRICA
Drama, Sketches, South Africa, 02.39
Director: Katarina Balgavi
Cast: Irina and Walked Mikkoli, Venantia Otto
Calm, resistance, power and awakening… The battle on the dunes. The contrast of the diversity and unity of South Africa.
19. WITHOUT LIMITATIONS!
Comedy, animation, Canada, 02.17 min.
Director: Leo Leng
When two young people release their hearts into a fairy tale of rhythm, love blooms. Freedom to go!
For all questions: 050-214-06-79