Festival «SHORT METER ABOUT LOVE»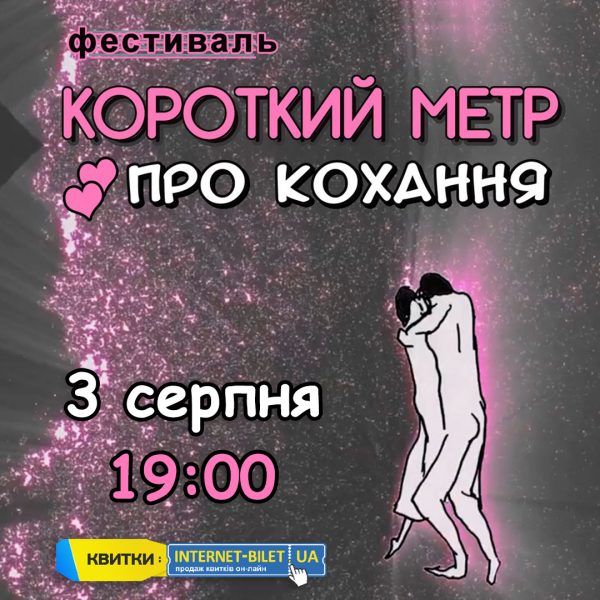 August 3 at the Fabrika.space festival "SHORT METER ABOUT LOVE"
In the hall free landing!!!
Session: 19:00
Ticket price: 80 UAH
Countries: USA, Japan, Ireland, Slovakia, Germany.
Duration: 87 min.
Age category: 18+
Language: Ukrainian
Love is a difficult category, often incomprehensible, but always beautiful!
Love fascinates, excites, pushes for majestic or absurd actions, calls you on the road, forces you to determine life priorities and twists everything into complex exciting plots… There are several such interesting stories in the collection of the festival "SHORT METER ABOUT LOVE".
The festival program includes 13 films of various genres: romantic comedies, comedies, dramas, which have 13 recognitions from prestigious international film festivals, including: USA FF, Chicago IFF, Raindance FF, Utah Arts Festival, Underground Cinema Awards, Ireland, Warsaw IFF, Macon FF, SIGGRAPH, Woods Hole FF, Annie Awards.
PROGRAM
SPEED DATING 
Comedy, animation, USA, 11.10 min.
Director: Megann Artis
Cast: Baiz Buzan, Russ Williamson, Michael B. Woods
In search of the man of her dreams, sweet and outspoken Ava decides to visit a quick dating club. But strange interlocutors make you wonder is it really so bad to be alone…
Awards: 1 win and 2 nominations
— USA FF 2015 — Winner — Short Film Competition — Meghann Artes (director) 
— Chicago IFF 2014 — Nominee — Best Short Film 
— Raindance FF 2014 — Nominee — Best Animated Short
UNSOPHISTICATED HEART
Romantic comedy, animation, USA, 3.43 min.
Directors: Ashley Anderson, Jacob Mann
The fire of love, which is difficult to extinguish, is able to overcome any obstacles.
FLASHES
Romantic Comedy, United States, 6.49 min.
Director: Jason Ho
Cast: Will Caesar, Ann Marie Rooney, Rich Reader, Jeremy Messermite, Bruce Miller, Michael Cox
A lonely young mechanic has an infinitely romantic imagination. And it's not so easy to cope with it when you perform work tasks…
LOVE ON BALCONY
Romantic comedy, animation, USA, 3.52 min.
Directors: Joshua Hong Wu Chun, Kun Yu Ng
The enraged old man is doing everything to destroy the romance of the neighbors… But love has its advantages…
ILLNESS OF LOVE
Romantic Comedy, USA, 4.43 min.
Director: Kevin Mark Lacey
Cast: Joshua Cameron, Tatum Langton, Heather Mone
Will the young man be able to find the girl of his dreams despite attempts to catch up with any girl?
Аwards: 1 win
– Utah Arts Festival 2011 – Grand Jury Prize – Short Film of the Year
LOVE AT FIRST SIGHT
Romantic comedy, animation, Japan, 5.55 min.
Director: Ryosuke Oshiro
Cast: Joshua Cameron, Tatum Langton, Heather Mone
Sometimes love comes quite unexpectedly. The feelings that suddenly flared up cause people to be distracted from scientific problems or simply lose their common sense…
UNLOCKING CHARLIE
Drama, Ireland, 13.14 min.
Director: Stephen Creeley
Cast: Grace Fitzgerald, Tom Maguire, Clyde Moulds
Everyone has the right to love. Even one whose mind is clouded by terrible fears and painful imagination.
Аwards: 1 win
– Underground Cinema Awards, Ireland 2011 – Underground Cinema Award – Best Independent Short Film
ABOUT SOCKS AND LOVE
Comedy, animation, Slovakia, 6.52 min.
Director: Michaela Kopikova
A short film about love, but mostly about socks.
Awards: 1 nomination
– Warsaw IFF 2008 – Nominee – Best Short
OPHELIA. SETTING LOVE AND PRIVACY
Romantic comedy, animation, Germany, 3.51 min.
Director: Bin-Han
The cute gigolo Hubert has a bubble above his head, in which his thoughts are floating. And absolutely everyone can see them. And since Hubert mostly thinks about naked women, this puts him in trouble…
PLASTIC
Romantic comedy, USA, 5.04 min.
Director: Jamie Mac Keller
Starring: Rose James, James Rothcell, Sebastian Synovets
A young girl notices that the guy next got into trouble. She is trying to help him, and this is the beginning of a romantic adventure.
CHICKEN OR EGG
Comedy, animation, USA, 3.20 min.
Director: Christine Kim, Elaine Wu
Tastier food than chicken eggs for Pork was nothing. But when he fell in love with the hottest Hen in the city, he faced an extraordinary question – what to choose?
Awards: 1 nomination
– Annie Awards 2014 – Nominee – Best Student Film
ROMANCE
Drama, comedy, USA, 14.20 min.
Director: Ryan Daniel Dobson
Cast: Kimberley Alexander, Ryan Daniel Dobson, Kevin Eric McCarthy
When romance turns into a game, and not just a game, but into desperate contests – this can lead to disastrous consequences.
Аwards: 1 win
– Woods Hole FF 2014 – Best Short Comedy
FAILOR JENKINS AND THE MISTERING LU
Romantic Comedy, USA, 3.52 min.
Director: Michael Bidinger, Michel Kwon
One day, always unhappy Jenkins and usually happy Lou meet in the morning under not quite expected conditions. A strange adventure continues, giving a vivid, albeit sometimes amusing impression.
Awards: 5 wins
– Macon FF 2015 – Best Animated Short
– Macon FF 2015 – Excellence in Editing
– National Board of Review, USA 2014 – Student Grant
– SIGGRAPH 2015 – Best Computer Animated Short
– SIGGRAPH Asia 2014 – Best Student Project
For all questions: 050-214-06-79