French Animation Festival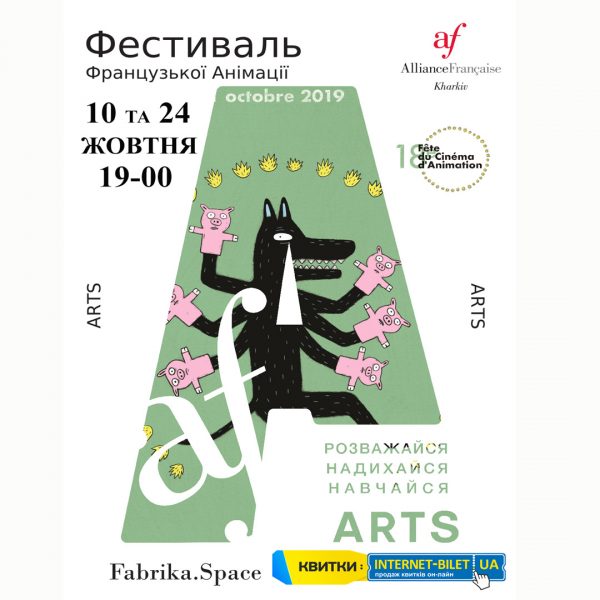 October 24 at the Fabrika.space French Animation Festival
IN THE HALL A FREE LANDING!
Session: 19-00
Age: 0+
Duration: 81 minutes
Genre: short meter
Cost: 65 UAH
Source language: french with ukrainian subtitles
Within the framework of the French Language Year in Ukraine, Festivals cinema together with the Alliance Francesz Kharkov present the French Animation Film Festival.
Spectators are waiting for the best selection of 18 french animated films, many of which were participants in prestigious film festivals and were awarded prestigious film awards.
SHOW PROGRAM:
1. GOOD EVENING EVERYONE / BONSOIR TOUT LE MONDE
2. LIES / COUCHÉE
3. CUPLET FROM BAGNOLET / LE COUPLET DE LA RUE DE BAGNOLET
4. IN THE SMALL BOAT / DANS UN PETIT BATEAU
5. PIERCED FROG / LA GRENOUILLE AUX SOULIERS PERCÉS
6. IT WAS A SHEET / IL ÉTAIT UNE FEUILLE
7. I DREAM SO MUCH ABOUT YOU / J'AI TANT RÊVÉ DE TOI
8. LITTLE PAN OF ANATOL / LA PETITE CASSEROLE D'ANATOLE
9. ZEBRA / LE ZÈBRE
10. FIELD KEY / La clé des champs
11. STUNNED STARLIES / tourdis étourneaux
12. MODEL PORTRAIT / LE PORTRAIT MODÈLE
13. ONE MOMENT / UN INSTANT
14. ELEPHANT`S BIKE / LE VÉLO DE L'ÉLÉPHANT
15. TIGER WITHOUT SCRATCH / Le tigre sans rayures
16. TINY FOX / Le renard minuscule
17. CAGE / La cage
18. BIG MIGRATION / La Grande migration
MORE EVENTS ON THE ORGANIZER'S SITE