GOOD SHORTS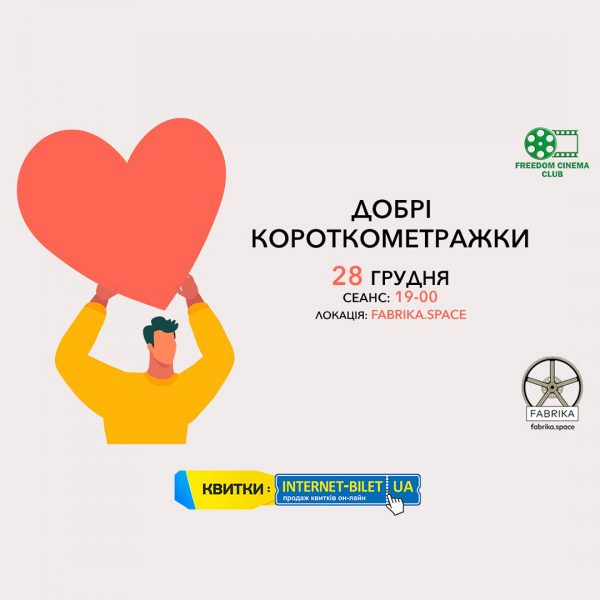 28th of December at Fabrika.space "Good Shorts"
IN THE HALL A FREE LANDING!!!
Session: 19-00
Ticket price: 80 UAH
Countries: Poland, USA, Canada, United Kingdom of Great Britain
Age category: 16+
Duration: 1 hour 30 minutes
Language: original (mainly in English) with Ukrainian subtitles
Good shorts are inspirational stories about life, love, friendship.   
PROGRAM
1. Romance
2019, Poland, 21:07
Stanislav planned everything perfectly. His surprise trip for the beloved must be compelling. However, Stanislav forgot about Murphy's Law, and a romantic journey turns into a real nightmare.
2. There is no other way to say it
2017, USA, 6:36
A comedy about the glamorous world of advertising.
3. The blessing of old age
2019, USA, 4:56
The story of the benefits of aging and why you should not be afraid of old age.
4. For you
2019, USA, 5:14
Romantic story. They met by chance after a long pause in the relationship, but the memories and feelings do not disappear over time.
5. Two dollars
2019 Canada 10:03
Sylvia is an exemplary employee in the company, until she is invited to take part in one interesting working meeting…
6. Are we good parents?
2019, USA, 9:04
When the 14-year-old daughter Lauren and Bill says she will go to her first dance with classmate Ryan, they question their previous ideas about the speed of their daughter's growing up.
7. Serenade
2019, United Kingdom of Great Britain, 1:39
Sometimes it's better not to know how your beloved sings, as this can end unpredictably.
8. The dragon
2019, USA, 19:52
A comedy about a hero who has only two days to kiss for the first time in his life…    
For all questions: 050-214-06-79