KEY ERRORS OF BUSINESS OWNERS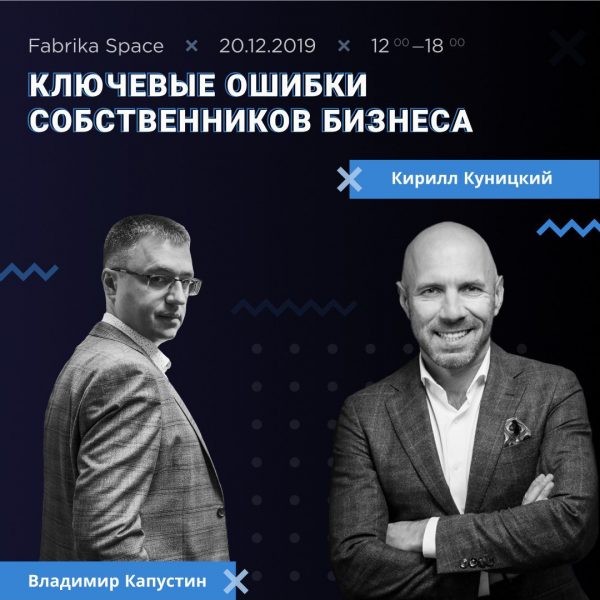 Remember last December, 2018
❓You planned to achieve cool results in business, motivated the team with loud slogans, but did not realize your plans?
❓Or maybe they said to themselves: "It's too early, by the end of the year we'll plan a bit of a plan", but then the routine sucked in?
❓Perhaps you even began to set goals, but because of force majeure did not bring them to the end?
Make error handling this year to implement the strategy next
20th of December come to the Master Class "Key mistakes of business owners"  – and never put off your plan again!
🔹 12: 00-12: 30 – Registration
🔹 12: 30-14: 00 – Speech by Vladimir Kapustin
🔹 14: 00-15: 00 – Coffeebreak & Networking
🔹 15: 00-18: 00 – Speech by Kirill Kunitsky
SPEAKERS:
Kirill Kunitsky – founder of "Business Constructor" and "Business Owner 2.0."
He will present the topic "Why is a business owner a poor operations manager and how to set up a company's operations without involving the owner".
You will learn:
✅ how to get out of routine tasks and increase personal productivity
✅ tools and life hacks to increase company productivity
✅ list of common problems of time management and methods for solving them
✅ understanding of job descriptions of the owner and his role in managing the company
✅ skills for correctly setting goals and achieving them.
Organizing a business is a "must have," but protecting
business is also very important, right? 👇  
Vladimir Kapustin – managing partner of Kapustin & Partners JSC.
He will talk about new ways and trends that will help to defend themselves during inspections and searches in the 2⃣0⃣2⃣0⃣.  
💥Number of places is limited💥
Registration by link