Kyiv International Short Film Festival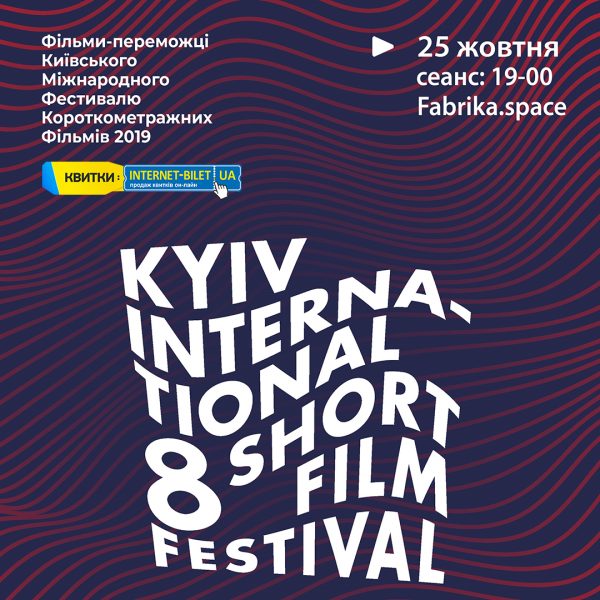 October 25 at the Fabrika.space Kyiv International Short Film Festival
IN THE HALL free landing!!!
Session: 19:00
Ticket price: 80 UAH
Countries: Hungary, Cambodia, Ukraine, Poland
Age category: 18+
Duration: 73 minutes
Language: Ukrainian
If you are a connoisseur of a short meter – this show is for you.
Its name speaks for itself: triumphant films, winning films, star films. Or just – Best of KISFF. We collected all the fun and put it in one show. If you want to enjoy the qualifying short meter, you are sure that everyone will find their reason to spend the evening in the company of the most interesting films KISFF 2019.
"Broken road to a new land" (the main prize of the jury of the international competition)
Kavich Neang, Cambodia/2018, 15 min
Phnom Penh at night. Three young hip-hopers ride a motorcycle and stop on a dirty deserted road. Nick leaves others to search for the iPhone, which, he heard, was lost in the area. Piset and Tye discuss their hopes and doubts, and Piset demonstrates his best movements in the style of Michael Jackson. They meet Lichen, a young street saleswoman whose cart is full of flowers.
"Pan Leaderz" (special award of the international competition)
Lutsa Tot, Hungary/2019, 19 min
Boris is 50 years old. Although not handsome, he is madly in love with the young and beautiful Cesar. The hero leads a secret life and devotes it entirely to man, which is both his ancestor and his romantic sympathy. Everything changes dramatically when Cesar, not knowing about the existence of Boris, brings a woman to his love nest.
'Love' (audience award)
Nikita Liskov, Ukraine/2019, 13 min
Love finally happened in Ukraine.
"Acid rain"
Tomek Popakul, Poland/2019, 26 min
Eastern Europe. A teenager runs away from her depressed hometown. Her enthusiasm for hitchhiking disappears when she finds herself on the outskirts of an unfamiliar city in the middle of the night. On the bridge, she encounters a figure who recklessly walks around the fence. So she meets with Skini – a kind of unstable eccentric. Skini lives in a motor home, which he uses to carry out his not-so-legal assignments. Together with him, she goes on a journey without final destination. During the trip, a special affection arises between them.
Show organizer
For all questions: 050-214-06-79