LOVE SHORTS | PART 2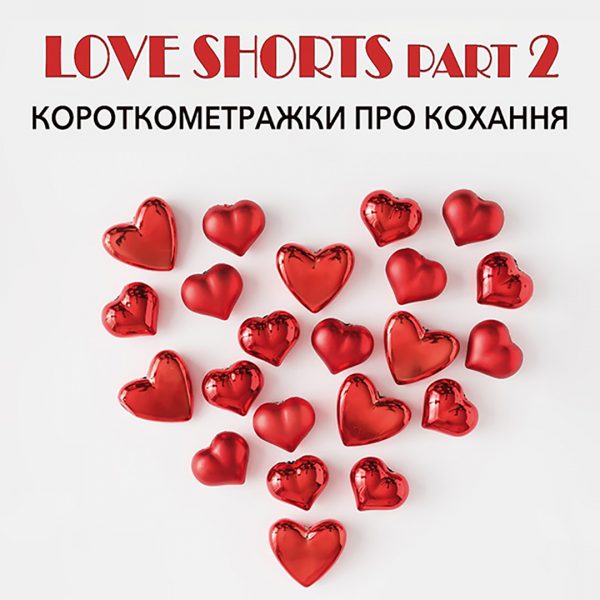 3rd of January at Fabrika.space "Love Shorts part 2" – shorts about love
IN THE HALL A FREE LANDING !!!
Session: 19-00
Ticket price: 80 UAH
Countries: Holland, Ireland, USA, Canada, Germany, United Kingdom, Italy.
Age category: 16+
Duration: 1 hour. 30 minutes
Films are broadcast in the original language with Ukrainian subtitles
The eleven films of program "Love Shorts part 2 – shorts about love" – are inspirational stories about life, love, and friendship. New episodes are waiting for you: funny, romantic, passionate – and everywhere in the main role is love! See you at the movie screening!
1. 97%
Ben Brand, The Netherlands, 2016, 8:07
Present technologies not only simplify a person's daily life, but also help them find their love. In particular, an innovative mobile application that allows you to find your soul mate – tells her/his geolocation and the percentage of your match. You can learn what this may come of, or these are our everyday realities while watching the movie "97%".  
2. Take a walk?
Shimmy Marcus, Ireland, 2012, 14:00
This is a romantic story of a girl from Germany and a guy from Ireland who, despite the language barrier, manage to get to know each other much more than it seemed at the first meeting.
3. The day we met
Saint Cunningen, USA, 2015, 3:17
A beautiful relationship story. Appreciate every minute when you are together, because tomorrow a completely different life may come!  
4. The long branch
Dane Clark, Canada, 2011, 13:00
A funny story about teens that reminds us that love is the most sincere feeling that each of us can experience. And even if you are a short-sighted teenager.
5. Almost
El Gneiner, Germany, 2015, 10:21
They meet in the subway for several months. Just a look. Only a quiet feeling. The film is about how important it is not to be afraid to take the first step, even if it seems that this step is unrequited.  
6. Glance
United Kingdom of Great Britain, 2016 2:54
The story of how one glance can create in the imagination the story of a whole beautiful life.
7. Loser Jenkins and Lucky Lou
Michael Bidinger, USA, 2014 3:50
If you are a loser, then you should look for your soul mate among the lucky ones, and vice versa. The main slogan of the film is how we actually complement each other in a relationship and how important it is.  
8. Silent love
Giacomo Zanni, Italy, 2014 3:57
He saw her on the train home from work, and now he meets every day. No, they don't say, no, they don't know each other, however, something flashed especially in my eyes and it seems that this is love. Will he decide to meet? Who knows…
9. Love
Clementine Cairoli, USA, 2012, 14:55
Love has several stages: passion, interest, acceptance. In terms of science and humor about relationships and love.  
10. Me and You. Love story
Jack Tew, United Kingdom of Great Britain, 2015 7:23
About life, about love, about everyday things that either develop relationships, or bring everything to nothing. Because love is a work on which you need to work every day, to work both.
11. One night stop
Jack Tew, United Kingdom of Great Britain, 2011, 4:55
They met at the party, that evening everything seemed to be forever… The story of that very morning, when what seemed so fabulous in the evening is not really that. Comedy about the morning after a noisy party.    
For all questions: 050-214-06-79