MANHATTAN SHORT FILM FESTIVAL — 2019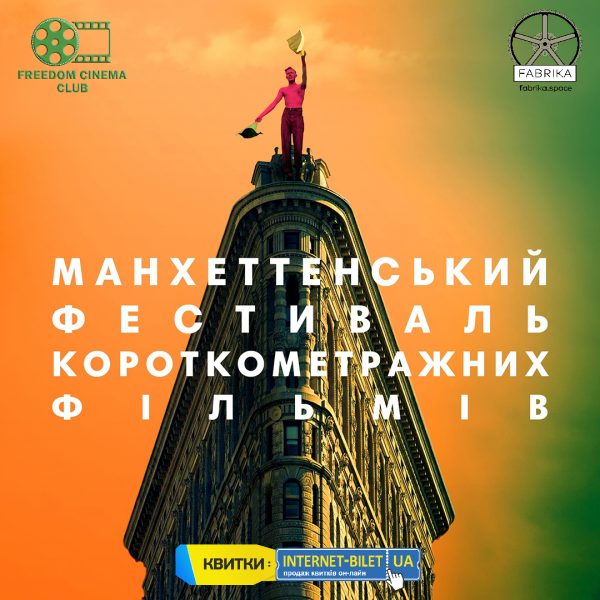 October 4 at Fabrika.space MANHATTAN SHORT FILM FESTIVAL – 2019
IN THE HALL free landing!!!
Session: 19-00
Ticket price: 80 UAH
Countries: USA, UK, Germany, Finland, Canada, Iran, France.
Duration: 144 minutes
Age category: 16+
Language: ukrainian
The world's largest interactive Manhattan short film festival annually collects applications from directors around the world and in september presents the next selection of finalists. The winners are determined by a large international audience within one week.
In 2019, Ukrainians will be able to join the selection of the best short film of the year for the 13th time.
PROGRAM
AT THE END OF THE WORLD
Country: USA
Duration: 13 minutes
Director: Von Davis
Cast: A. Leslie Keys, Victor Manso
In an apocalyptic future, a lone civil servant falls in love with a soldier during the last world war. But their joint future is in threat when the guy is sent back to the war zone.
A FAMILY AFFAIR
Country: United Kingdom
Duration: 13 minutes
Director: Florence Keith Roach
Cast: Florence Keith Roach, John Standing
Annabelle wakes up alone in a stranger's bedroom on her 30th birthday. She thinks the day cannot get worse, but Bernard comes in, and he is clearly not the man of her dreams.
MALOU
Country: Germany
Duration: 14 minutes
Director: Adi Voyachek
Cast: Romina Kupper, Veronica Ferres
Having been denied at the famous dance school, Malu has a chance to prove that she is destined to become a dancer, despite all the bets not in her favor.
THIS TIME AWAY
Country: United Kingdom
Duration: 14 minutes
Director: Magali Barbe
Cast: Timothy Spall, Jessica Ellerby
An elderly man lives like a hermit, persecuted by his past and the memory of the family that he once had. Until a guest comes to him in an inhuman form and does not violate his isolation.
THE MATCH
Country: Finland
Duration: 16 minutes
Director: Pia Andell
Cast: Milka Alroth, Nina Hakkinen
Two middle-aged women turn a friendly game of tennis into intense competition, but come together at the end of the match when they discover one thing in common.
SYLVIA
Country: United Kingdom
Duration: 16 minutes
Director: Richard Prendergast
Cast: Jolie Lennon, Keynor Fraser, Macy Prendergast
Our love of the car means that the car can feel part of the family. Sometimes even something big.
TIPPED
Country: Canada
Duration: 14 minutes
Director: Alice Leyte-Rogers
Cast: Fiona Vroom, Brian Markinson, Teryl Rothery
Expensive restaurant. After serving the table with "difficult" customers, the waitress reaches the boiling point and comes up with a special dish of revenge.
DRIVING LESSONS
Country: Iran
Duration: 13 minutes
Director: Marzie Riachi
Cast: Linda Kiani, Alireza Sanifar, Salar Hamsa
According to Iranian laws, Bahara's husband must accompany her during driving lessons: the girl cannot remain alone with the instructor. Two men do not get along with each other.
DEBRIS
Country: USA
Duration: 14 minutes
Director: Julio Ramos
Cast: Tenoch Huerta, Karren Karagulyan
Accident at a construction site. Armando acts quickly, trying to save his brigade, but is faced with a terrible truth. The film presents an insider view of the grim world of human trafficking.
NEFTA FOOTBALL CLUB
Country: France
Duration: 17 minutes
Genre: Yves Piat
Director: Eltaef Daoy, Mohamed Ali Ayari
Tunis, border with Algiers. Two little brothers, football fans, find a donkey in the middle of the desert. A common thing, but why is the animal wearing headphones?
Show organizer
For all questions: 050-214-06-79