Matteo Sansonetto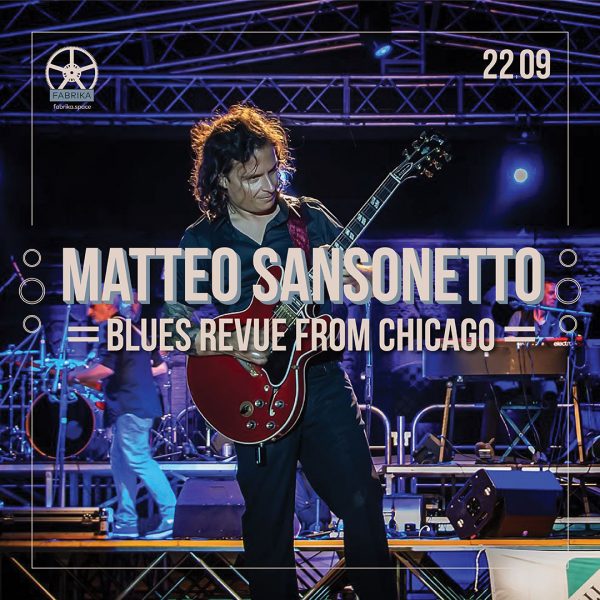 If you do not fly to Chicago, Chicago flies to you!
Delicious cuisine, the right cocktails and, most importantly, immersion in the mood of a real rhythm and blues!
The star of this evening is Matteo Sansonetto, who is not for nothing considered one of the best showmen of the modern blues scene. Even at chamber concerts, he creates the atmosphere of a "stadium", each of his concerts certainly ends with the audience dancing and singing on stage.
A native of Italy, he has built a successful musical career in the United States. He has concerts, tours and studio projects with such giants as Lurrie Bell, Billy Branch, Omar Coleman, Chris Foreman, Enrico Crivellaro, Paolo Bonfanti, James Bogaloo Bolden (BB King's bend leader), Waldo Wheathers (saxophonist of the original composition of James Brown), Pistol Pete, Carl Wyatt and Archie Lee Hooker (nephew of John Lee Hooker).
His albums and singles receive hot support from the world blues press, about him write Living Blues magazine (USA), Blues Blast (USA), Il Blues (ITA), Blues & Rhythm (UK), Rootstime, Soul Bag (Fr). The German Blues News magazine nominated his album for "Best Blues Album of the Month". Matteo and his supergroup are constantly performing on the stages of major Chicago blues clubs such as Buddy Guy's Legends, The House of Blues and Rosa's Lounge.
Sunday evening within the walls of Fabrika.bar under the incendiary electric blues promises to be very hot! So see you on Blagoveshchenskaya, 1!
Reservations required by phone 0681001155