MOTIVATION SHORT FILMS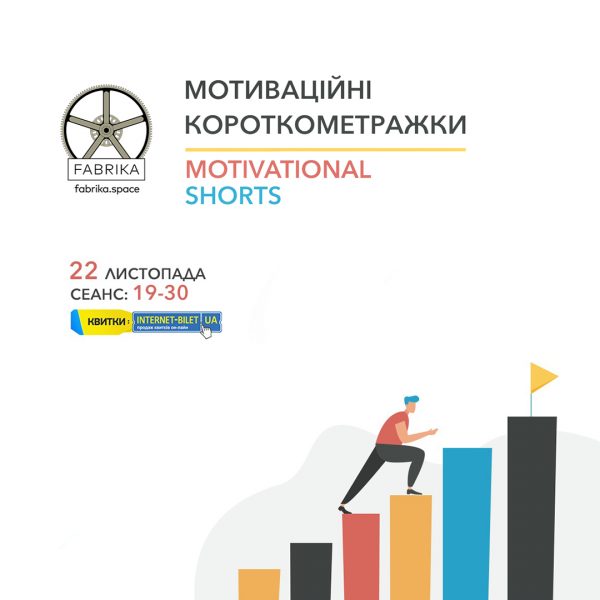 22th of November at Fabrika.space Motivation Short Films
IN THE HALL FREE LANDING!!!
Session: 19-30
Ticket price: 80 UAH
Countries: USA, Canada, United Kingdom, Spain, Australia.
Age category: 16+
Duration: 1 hour. 30 minutes
Language: original (mainly English) with Ukrainian subtitles
Motivation short films are inspirational stories about overcoming life's difficulties, love, friendship and the opportunity to express oneself.    
PROGRAM
1. Routine, 2016, (12:57) Anale Kariya, Great Britain.
Routine, family conflicts, burnout at work – what can save and give a second wind? Only what you are more devoted to, what your heart burns with.
2. Reflections: Promoting Creativity, 2019, (5:34) Sarah Shutzki, USA.
The main task of the creator is to see the world not as others see it and share his experience with others.
3. In search of inspiration, 2018, (9:17) Arturo Sanchez, Spain.
The story of 3 surfers for whom surfing and traveling are the main components of happiness and motivation.
4. The path to inspiration, 2019, (5:47) Antonio Gonzalez.
This short film is an attempt to say what is most important in life: enjoy the moment, fall in love with the sunrises, explore new places and ride a bike.
5. The hidden side of greatness, 2019 (5:28) Gareth Marx, USA.
The story of the relationship between father, son and a shared love of basketball.
6. Two legs – one feat, 2017 (6:54) Matt Kalanan, Great Britain.
Most of us take gait for granted, but not Emma. The girl had cerebral palsy and spent her whole life in a wheelchair. This is the story of her first half marathon.
7. The Renaissance, 2015 (4:34) Andrew Margetson, Great Britain.
A short film about Lauren Cuthbertson, the lead dancer for The Royal Ballet.
8. Family, Salazar, 2016, (4:21.) Canada.
The film is about the family and its important role in the life of every person.
9. Hands-free, 2016, (7:56) Ross Harris, USA.
Mark Goffin is a musician who lives and plays in San Diego, California. Almost nothing surprising, except that Mark was born without hands.
10. Josie and his bakery, 2013, (14:00) Naeb Taraze, USA.
In San Francisco, California, Josie opens his own bakery. What difficulties does he encounter, what does a baker mean by vocation – the story of this cheerful, kind and young baker.
11. I also want to play badminton, 2011, (14:20) Corrie Chen, Australia.
A teenager named Nick wants to become the biggest badminton player. Daily training, serious preparation for the competition and…  first love! A good, comic story about where dreams lead when you're a little crazy.  
For all questions: 050-214-06-79