OSCAR SHORTS 2019 | ANIMATION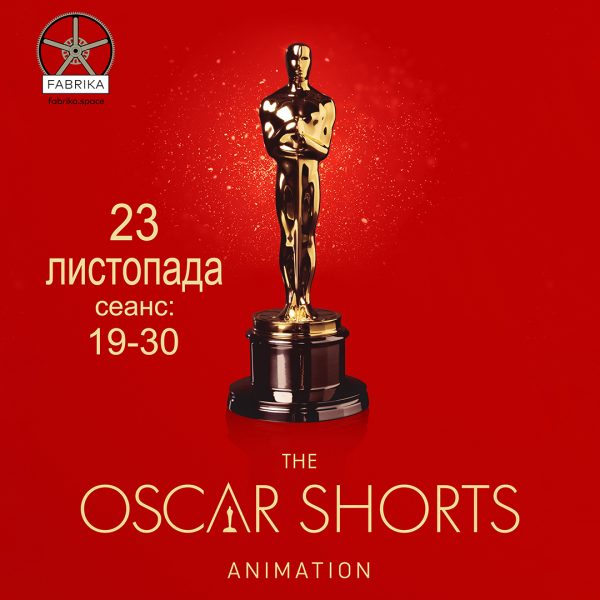 23rd of November at Fabrika.space OSCAR SHORTS 2019 | ANIMATION
IN THE HALL  FREE LANDING!!!
Session: 19-30
Ticket price: 80 UAH
Countries: Canada, Ireland, USA, China
Age category: 16+
Timing: 57 minutes
Language: voiced in Ukrainian
23rd of November watch the best animation of the year at Fabrika.space!
Laureates and nominees for the most prestigious film award in the world will again fill the film clubs of Ukraine! The program has touching, funny and surprisingly beautiful animated films that everyone should see. We are waiting for stories about love and family values, about hope and disappointment, about the ability to forgive and let go.
This year we will watch such masterpieces of animation: "Behavior of animals", "Bao", "Late in the evening", "One small step", "Weekend". Come to the cinema and open your heart to the beautiful.
PROGRAM
1. Animal behavior
Canada, 2018, dir. David Fine, Alison Snowden, hron. 14 minutes
A group of animals meets weekly in a group session of psychotherapy. They discuss problems that do not allow to be realized in social and personal life: overeating, obsessions, aggression…
2. Bao
Canada, USA, 2018, dir. Dom Shea, hron. 8 minutes
A woman suffering from empty nest syndrome gets another chance to reveal her motherly love when one of the khinkali blinded by her suddenly comes to life.
3. Late in the evening
Ireland, 2017, dir. Louise Bengall, hron. 9 minutes
An elderly woman constantly returns to old memories. It exists between two states: past and present.
4. One small step
USA, China, 2018, dir. Andrew Chesworth, Bobby Pontillas, hron. 11 minutes
Moon is an energetic child who dreams of becoming an astronaut. Since she saw the launch of a rocket into space on TV, she boldly strides to the stars. And on the way to them, her own hand holds her hand.
5. Weekend
USA, 2017, dir. Trevor Jimenez, hron. 15 minutes.
The story of a little boy who is constantly torn between his newly divorced parents. Surreal moments are intertwined with the home realities of a family that has broken up.    
For all questions: 050-214-06-79