PERSONAL BRAND FULFILLS WISHES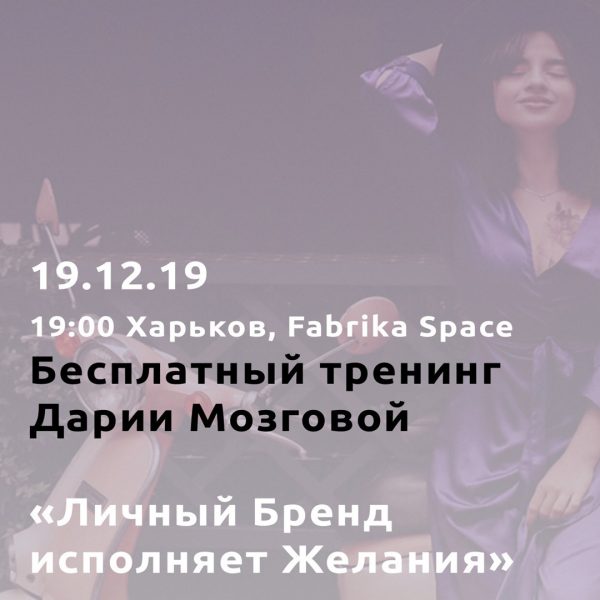 19th of December will be the most magical event of this year
"Personal Brand fulfills Desires"  
Personal Brand – not about masks, not about successful success.
Personal Brand – about the fulfillment of Desires.
About high-quality personal growth.
About a new, important step.
Speaker: Daria Mozgovaya
Creator of MYS Personal Branding Agency ("Making Your Shine")
Creates radiance for artists, entrepreneurs, experts in 6 countries. Leads them to the achievement of goals.
Dreamer. Producer. Marketer.
She knows how to use Personal Brand to fulfill cherished, large-scale Desires.
Since 2017, she and her MYS agency talked about the importance of the Personal Brand in Stockholm, Kiev, Moscow. They were filled with visualization aesthetics in Scandinavia, promotion techniques in Los Angeles, so that at the end of 2019, on St. Nicholas Day, to reveal to you the main secrets of becoming a successful Personal Brand that fulfills Wishes.
We will analyze global trends, learn about visualization of the Personal Brand, talk about aesthetics, identify our expert aspects, our true uniqueness and learn to set goals that we will definitely reach with the help of the LB!
Come to the most magical event of this year and fulfill your beautiful Wishes!  
Register by the link and start making up your mind!
Additional information by phones: 063 064 2191 or 093 150 0781