Rene Magritte. Mysteries and secrets of the artist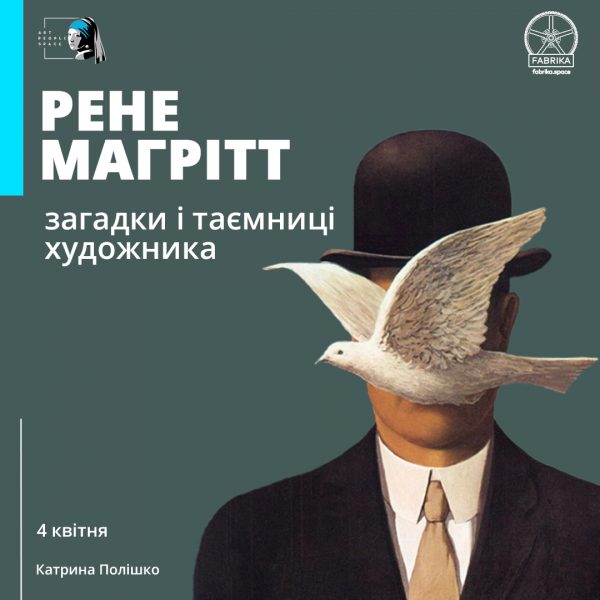 Rene Magritte is one of the mysterious artists of the last century.
The surrealist artist used the motto "Visible is not like that" in the philosophy of his work and really knew how to show absolutely simple everyday objects under a different perception. Rene Magritte always offered the viewer to fantasize, dream and marvel, he created his own world of illusions, where ordinary life was combined with myths.
The artist managed to live the life of an ordinary man in an unchanging cauldron. But if you look at the photographs taken by the artist and his paintings, an unknown deep world of an individual opens up. In the lecture we will try to solve the riddles left by the master.
SPEAKER: Polishko Katerina – art critic, graduated from the Academy. Stiglitz in St. Petersburg, graduated from NPU. Drahomanov, Faculty of Philosophy. She completed courses in Contemporary Art at MoMA in New York. He has experience in the field of international art business. During the curation, more than fifty exhibitions were organized in Kyiv and abroad.
Venue:
Fabrika.space: co-working
address: st. Blagoveshchenskaya, 1 Kharkiv
Date: April 4, 2021
Registration starts at 15:40
Pre-registration and payment is required!
Buy ticket 👉 https://forms.gle/xn9b2fS4qcC4ZZHA8
Detailed information by phone:
+38 (067) -130-46-63
Info@artpeople.space