Secrets of the profession. Art manager. Denis Belkevich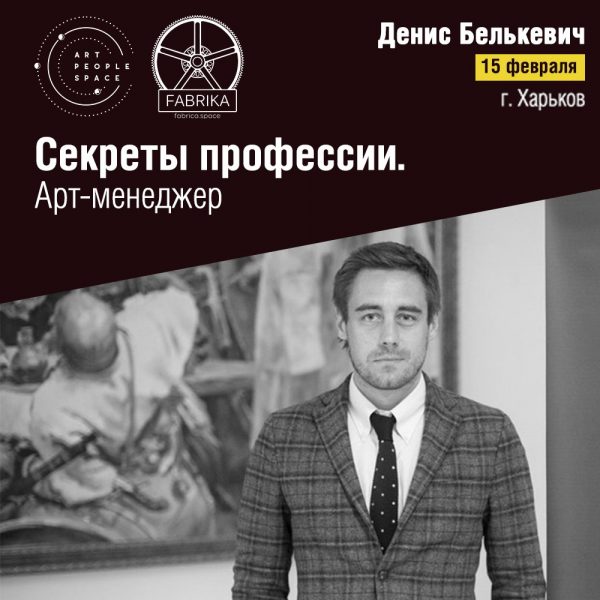 We invite you to a meeting with a professional cultural project manager, investment consultant, private collections management – Denis Belkevich Theme of the lecture: – Art manager, who is he: dealer, art critic, lawyer, manager? – Management in the field of art: area of ​​responsibility of the art manager – Delegation of authority and crisis management: slippery workdays of a cultural project manager – International practice: art management cases worth learning – Education of an art manager: why did it appear before the profession itself? – The art manager in Ukraine: an exhibit installer or a person with his own opinion?

SPEAKER: Denis Belkevich is an economist in the field of art, a professional manager of cultural projects, a consultant on investment and management of objects of art, and management of private collections.
He held the position of Managing Director of the GAAB Contemporary Asian Art Fair (Warsaw) and Project Manager of the Peter Konchalovsky Foundation (Moscow). In 2013, he founded the Ukrainian Cultural Group, a company managing private and state cultural property and providing consulting services in the cultural sector. Denis is a regular participant in international conferences and forums on marketing and the economy of the art sphere (Communicating the Museum, Deloitte Art Finance, Christie's Art + Tech, etc.). Member of the Board of Founders of the International Association of Asian Art Collectors.
Author of educational programs and publications on museum marketing, art banking, career management of artists and asset management. Permanent author of publications in Ukrainian and international publications: Art Ukraine, Forbes, RBC, Art, The Art Newspaper Russia, Art World Forum, collections of scientific studies. Founder of the Artfinex art finance blog.
Date: February 15, 2020
Registration starts at 15:40
Pre-registration and payment is required!
BOOK PARTICIPATION: https://forms.gle/AQG9NKBZSxXQvJfi7
CONTACTS:
Detailed information by phone:
+38 (067) -130-46-63
Info@artpeople.space