Short Film Festival "Cannes 2020. Special Edition»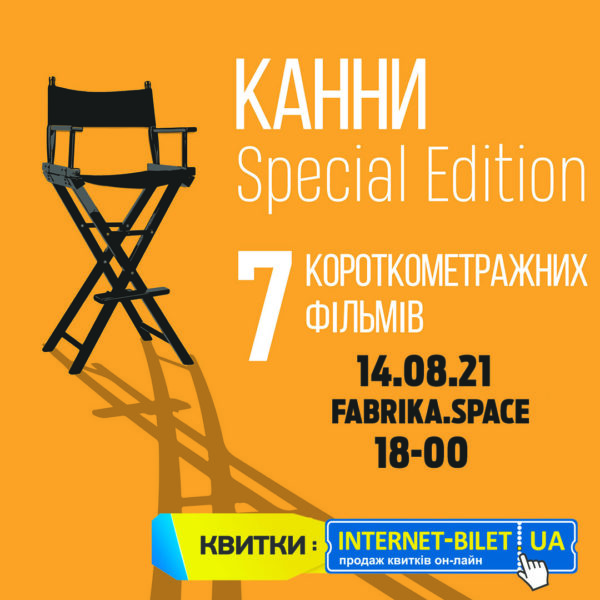 When: 08/18/21
Start: 18-00
Ticket price: UAH 100.00.
Tickets: https://kharkov.internet-bilet.ua/ru/kannskiy-kinofestival
Film language: dubbed in Ukrainian.
address: Kharkov, st. Blagoveshchenskaya 1, 2nd floor, blue hall.
TRAILER: https://www.youtube.com/watch?v=UjVl-TtSwgo
Cannes. Traditionally one of the largest and most famous festivals that takes place on the Cote d'Azur every year.
Despite the difficult situation in the world and an amazing test for all mankind, the Cannes Festival nevertheless took place in a special format. This means that our show is also special.
We have collected the best films of the exclusive edition of Cannes in 2020 and we are in a hurry to present them to the viewer's judgment.
Dramatic stories about unhappy families, betrayal and difficulties of love in all its forms, crazy animation, comedy from a Hollywood director with Will Ferrell in the title role (does everyone remember the good old Elf?) And much, much more.
Show program:
-1- Benjamin, Benny, Ben / Benjamin, Benny, Ben (Official program)
Dir. Paul Shkordoff, Canada, 7 minutes
A mini-drama about the excitement of a young man before a job interview. We are all familiar with these sensations!
-2- Contraindications / Cinefondation – 3rd place
Dir. Lucia Chicos, Romania, 19 minutes
A story about a girl who cannot let go of a dear person. What decision will she make in the end?
-3- Nobody Said I Have To Love You / Nobody Said To Love You (Cinefondation)
Dir. Matjaz Jamnikov, Slovenia, 18 minutes
A look at the problems of upbringing and communication with a naughty child.
-4- Blue Fear (official program)
Dir. Mere Yakot, Lola Khalifa-Legrand, France, 10 minutes
Arthouse animation about Amazons, infidelity and female solidarity.
-5- Muralla China / Wall of China (Cinefondation)
Dir. Santiago Barzah, Argentina, 17 minutes
Reflections on how easy or difficult it is to come to terms with the inevitable and how to keep holding the tail with the gun.
-6- David / David (official program)
Dir. Zachary Woods, USA, 11 minutes
A comedy drama from a Hollywood director with obvious morality, David needs help.
-7- The Last Ferry From Grass Island (Cinefondation)
Dir. Shang Linghai, Hong Kong, USA, 14 minutes
A poignant story that reveals the complex world of an assassin. Kill before the last ferry leaves …