South Italian fellows.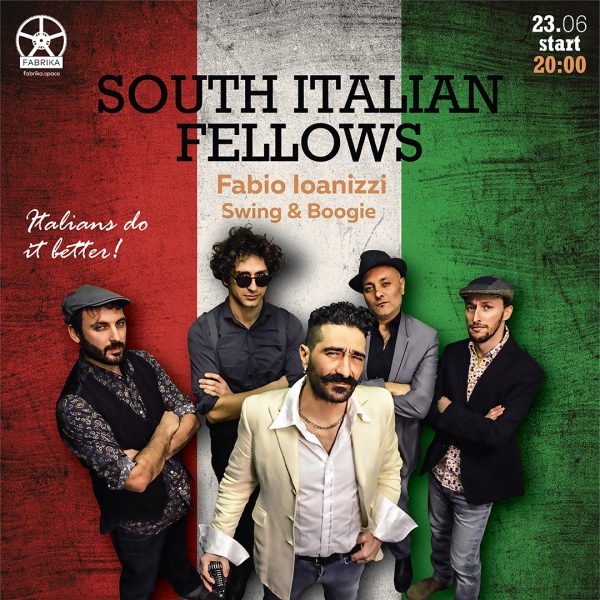 The influence of the Italians on the music that we consider "American jazz" is difficult to overestimate. Louis Prima (author of dozens of jazz standards, including Sing, Sing, Sing) and Frank Sinatra, Dean Martin (real name Dino Paul Crocetti) and Chick Corea (real name Armando), Chuck Manjoni and Nick LaRocca (one of the founders of New Orleans jazz). .. The list can be continued for a very long time.
In general, as they say, Italians do it better …
Incendiary Italian rock-n-roller, whose Rolling Stones themselves would envy their scenic drive and intoxication, for the first time in Kharkov, and of course, in the most soulful bar Fabrika.bar.
On June 23, unleash all the most mischievous emotions on an evening of classic blues, jazz, boogie-woogie and rock and roll along with Fabio Ioannisci and South Italian Fellows!
Waiting for you the good old reckless fun: golden hits of the last fifty years, compositions of "Italian Sinatra" by Renato Corazon (Pa-pa L'Americano, Caravan Petrol, Mambo Italiano, etc.), Louis Prima and Dean Martin in an amazing performance of the Italian band.
Charming hooligan Fabio Ianizzi – the favorite of the Italian public. The performances of his team adorn big festivals and small soul parties. In his professional biography there are more than 1,000 concerts on different continents, from the United States to India, two albums and five video clips.
South Italian Fellows music is a driving synthesis of blues, jazz, boogie, country and rock'n'roll with Italian flavor and indispensable hooligan humor. They give birth and "catch" the viewer from the first song and professionally bring listeners to the mark of happiness.