Summer. Dziga. Love – Ukrainian short meter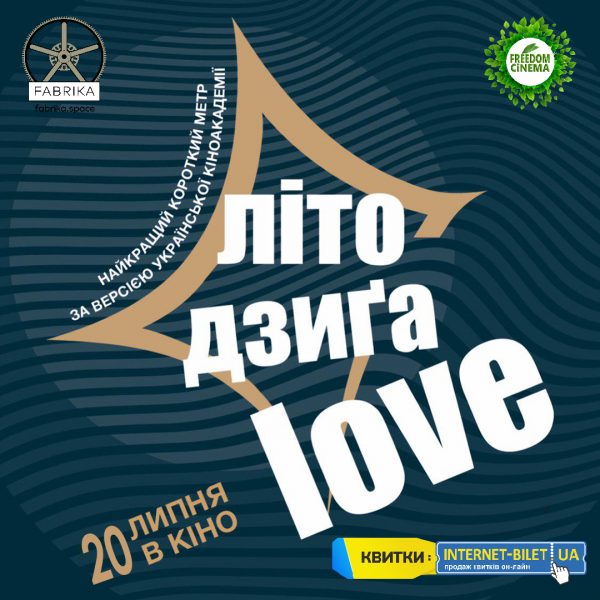 July 20 in Fabrika.space Summer. Dziga. Love – short meter
In the hall free landing!
Session: 19-00
Ticket price: 80 UAH
Country: Ukraine
Age category: 16+
Running time: 76 minutes
Language: Ukrainian (original)
Summer. Dziga. Love is the laureate films and nominees for the Ukrainian Oscar, – the highest national cinema award of the Gold Dziga.
The program includes:
– winner of the Ukrainian Film Academy "Mia Donna"
– "Monk", created after the song "Monk" of the group "DakhaBrakha"
– the fantastic love story "Eternity"
– "Holding one breath", shot completely under water and without any dialogue
– winner of the international film festival in Locarno (Switzerland) "Vipusk'97"
The project is implemented with the general support of the Ukrainian Film Academy.
Program
1. Mia Donna
Ukraine, 2018, dir. Pavel Ostrikov, 16 min
Oksana's 40-year-old's life changes when her husband Tolik turns into a seven-year-old boy. Doctors are powerless, and no one can bring it back. Oksana clings to her old life, but the problem turned out to be more serious than she thought.
2. Monk
Ukraine, 2018, dir. Sasha Danilenko, 5 min
To whom does a monk raise a glass? To whom does he read his prayers? When the sun sets over the river, everything becomes gray and it is already more difficult to distinguish white from black and the border between them. The monk crosses this line in the search for an answer.
3. Eternity
Ukraine, 2018, dir. Anna Sobolevskaya, 24 min
2058. Humanity conquered death. Corporations can transfer the souls of the dead to the digital underworld. However, even eternity has its price.
4. Holding one breath
Ukraine, 2018, dir. Alexey Sobolev, 12 min
An uncompromising girl, a synchronized swimmer, is fighting for the coach's love and for winning the championship.
5. Issue 97
Ukraine, 2017, dir. Pavel Ostrikov, 19 min
The lonely life of the TV master Romana is disturbed by the arrival in the provincial town of classmate Lyuda. Nobody has heard of it for more than twenty years, since the time of school graduation. And now Roman is trying not to lose her again …
Show organizer
For all questions: 050-214-06-79